Baikal MP654K .177 Makarov – Blued Red Star Grip
£199.99
Baikal MP654K .177 Makarov – Blued Red Star Grip

Coming from the heart of Russia the Baikal pistol line has some serious pedigree. The come out of the Izhevsk Mechanical Plant built alongside the real steel Makarov pistol, shotguns and even power tools!

baikal-mp-654k-makarov_blued

Ever popular due to their use of real steel quality parts and the fact they remain fairly inexpensive compared to higher end pistols, the Baikal line is a hit with traditional shooters and modern target shooters alike!

CO2 powered
13-shot magazine
Thumb safety/decocker
Single and double action
Non-blowback
All air weapons, rifles and shotguns must be collected in person from Enfleld Sports.
They may also be sent to a your local Registered Firearms Dealer for collection in person.
We will deliver your purchase to a verified Registered Firearms Dealer for £35.00.
Please contact us if you require this service.
Description
Baikal MP654K .177 Makarov – Blued Red Star Grip
Coming from the heart of Russia the Baikal pistol line has some serious pedigree. The come out of the Izhevsk Mechanical Plant built alongside the real steel Makarov pistol, shotguns and even power tools! This has a rifled barrel on the pistol. Comes in Baikal Cardboard Box.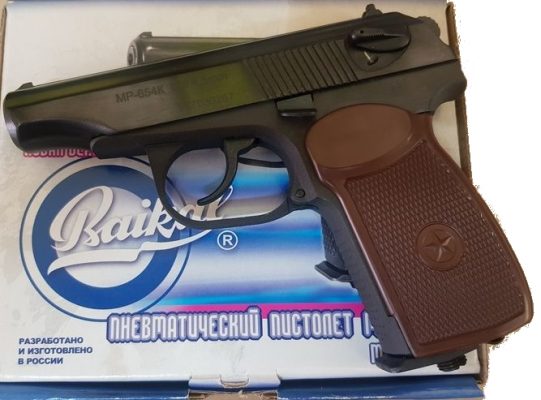 Ever popular due to their use of real steel quality parts and the fact they remain fairly inexpensive compared to higher end pistols, the Baikal line is a hit with traditional shooters and modern target shooters alike!
CO2 powered
13-shot magazine
Thumb safety/decocker
Single and double action
Non-blowback