Enfield Sports is a retail gunshop not far from Birmingham its just 5 minutes from Junction 3 of the M42, is easy to get to and there is free on-site parking. The site has a lovely farmshop which does fantastic homemade traditional meals. Enfield Sports are local to Wythall and easily accessible from Birmingham, Edgbaston, Aldridge, Castle Bromwich, Solihull, Knowle, Olton, Dorridge, Lapworth, Tamworth, Sutton Coldfield, Minworth, Four Oaks, Little Aston, Lichfield, Hollywood, Halesowen, Stourbridge, Kings Heath, Moseley, Stirchley, Redditch & Bromsgrove areas.
CORONA VIRUS UPDATE – Enfield Sports Store Temp Closed at the moment Possibly Opening Monday 15th June awaiting Government confirmation.
 Enfield Sports Shop at Becketts Farm is temporarily closed to comply with the UK Government decision to help tackle the Corona Virus outbreak.  We are still fulfilling website orders and recommend you order any accessories online. We are available for telephone enquiries 0121 643 4900. We are currently trialing out a CLICK & COLLECT service this is by appointment only please see FAQ COVID 19 Page on website. https://www.enfieldsports.com/CLICK & COLLECT is literally as its says we won't be allowing any customers into the store. Please email sales@enfieldsports.com with what you require and to book a collection slot. Max of only 2 Customers due to social distancing measures. Again this is via appointment based only. 
We can also be contacted via email
accounts@enfieldsports.com
Please be aware that postage and courier services are taking longer than usual due to an increase in volume

Directions to Enfield Sports
Directions to Enfield Sports Birmingham Gun Shop.
Enfield Sports, Unit 1c (Alcester Road Side) Becketts Farm, Alcester Road, Wythall, B47 6AJ
As you come into Becketts Farm keep to the LEFT follow all the way around. Go past Hollywood Beds you will see American Golf in front of you. Please Keep driving to the left and park near Intelligent Shading. The entrance to Enfield Sports shop is on the side of the building by the Alcester Road. Simply Walk in ring the bell on right hand side of wall and an Enfield staff member will buzz you in.
Any problems please ring the shop on 0121 716 1410. Please note the shop can be very busy so please leave a message if we dont get chance to answer.
About Us – Enfield Sports
ELEY .22LR Ammunition
Enfield Sports are a Premium Eley .22lr West Midlands ammunition supplier. Please contact us for pricings if you are a local gun club. Retail Prices have been added to website.
Enfield Sports will be a stockist of Daystate Airguns so if you are after any Daystate models including the Worlds Most Advanced airgun the Delta Wolf please call to reserve one. Daystate Wolverine, Daystate Red Wolf, Daystate Huntsman, Daystate Pulsar and Daystate Midnight Blue models please get in touch.
Gletcher Air Pistols – Operation Overlord D DAY Special Colt 1911 CO2 .177 BB Pistol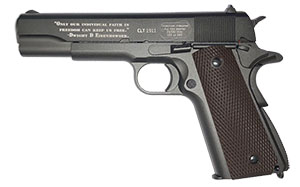 To celebrate D Day Enfield Sports has released a limited edition of 250 air pistols to commerate this historical event. Each Gletcher Colt 1911 replica CO2 air pistol is laser etched with the famous quote by Dwight Eisenhower
"Only our individual faith in freedom can keep us free"
also a set of dog tags with Operation Overlord has been etched onto each pistol.
RRP £239.99
FX AIRGUNS
Enfield Sports have FX Impact in Stock  New FX Impact MK2 and FX Chronograph are proving very popular in pre-orders.
FX Impact MK2 In Stock
FX Impact Mk2 .25 .22 .177 Black
ENFIELD SPORTS AIRGUN "MOT" SERVICE £25
For £25 we will check the zero on your gun how its shooting and Zero at 25 yards. Our staff will also give your gun a good spruce over, making it ready for winter plus check the power.
ELEY CARTRIDGES
Enfield Sports now stock Eley Shotgun Cartridges we have a varied range in-store. Pop in have a browse if we do not have what you require or qty please let staff know we can order in within 24 – 48 hours ready for you.
BSA Airguns in Stock
We carry in stock BSA Airguns now in stock at Enfield Sports
Weihrauch give priority to ensuring constant development and modification of their products so that they continue to meet the varied demands and requirements of the market.Tried and tested special materials for construction not only the barrels but also numerous other components ensure the build quality of these classic air rifles.
Enfield Sports stock the HW110, HW100, HWS99S, HWS50S, HW97K, HW77K, HW97KT and various Limited Edition and Blackline models in .177 .20 .22.
Weihrauch HW100 SK Air Rifle Carbine Sporter
WHY VISIT ENFIELD SPORTS?
Enfield Sports Gunshop is Open 7 Days a Week, plus a late night closing on Thursdays until 8pm.
---
 GUNSMITHING
WE CAN ACCEPT GUNSMITHING REPAIRS BUT ITS VIA APPOINTMENT PLEASE SEE COVID19 FAQ PAGE 
---
RE-LOADING PROUCTS NOW
IN-STOCK
Re-loading products now in stock Lee Precision, MTM Gard and Lyman.
RFD FIREARMS SHOTGUN TRANSFERS £35
RFD Gun shotgun/firearms Transfers from £35 – The RFD must contact us prior and certificate paperwork must be COMPLETED by the RFD who has SOLD the firearms/shotgun. This is in compliance with the law. It does clearly state this as a condition on guidance section of your licence.
RFD AIRGUN TRANSFERS £10 EACH AIRGUN
RFD Gun Transfers any airgun from any UK Dealer sent to Enfield Sports. ONLY £10!! Only One Airgun – air pistol/air rifle.
ENFIELD FREE CHRONO SERVICE – AIRGUN THURSDAY
Enfield Gun Thursday Bring in Your Airgun for FREE Chronograph. We will test and let you know how its performing.
KRAL AIRGUNS – NOW IN STOCK

Enfield Sports now have in stock the Kral Puncher Breaker in Synthetic £399.99 and Kral Puncher Breaker Walnut £425. We can offer for an extra £25 a Kral Silencer and another spare magazine £25. So for extra £50 a silencer and a spare magazine. We also carry in stock the Kral NP-01 Air Pistol .177 £300 and Kral Breaker Armour £450
Kral Puncher Breaker Bullpup PCP Walnut Air Rifle
 PARD Nightvision
CURRENTLY PARD NIGHTVISION ARE UNAVAILABLE IN THE UK
PARD NV007 OUT OF STOCK
PARD NV008 OUT OF STOCK
PARD NV008 LRF With Rangefinder OUT OF STOCK
Please see click on PARD Nightvision section on website