Shop
PLEASE CHECK STOCK AVAILABILITY BEFORE TRAVELLING – CALL THE RETAIL SHOP 0121 716 1410 
ENFIELD SPORTS BIRMINGHAM GUN SHOP, BECKETTS FARM, ALCESTER ROAD, WYTHALL, B47 6AJ
PROBABLY THE LARGEST GUNSHOP IN THE WEST MIDLANDS
Enfield Sports Birmingham Gun Shop cater for all your shooting requirements – we are one of the largest gun shops in the West Midlands if not the UK. You can come visit us to confirm this we also have possibly the largest stocks of airguns in the UK. Enfield Sports are stockists of all types of airguns, air rifles, air pistols, airsoft bb guns, shotguns, firearms, ammunition, cartridges, swords, fieldsports cutlery, Denix replica weapons, shooting accessories, country sports clothing  and much much more in the West Midlands area. Enfield Sports Gun Shop Birmingham is local to West Midlands areas inc Bromsgrove, Tamworth, Solihull, Redditch, Worcester, Brierley Hill, West Bromwich and the Sandwell areas.
Directions from M42: Leave the M42 at J3. Take the A435 north towards Birmingham. Continue for 1 mile and turn into Becketts Farm Shop (look for the brown sign) just before the large roundabout. If you miss the turnoff take the first exit at the roundabout and the turn left again look for the Becketts Farm Shop. Enfield Sports Gun Shop is located on rear side by Alcester Road. If you drive past the garage keep straight American Golf is in front of you and then drive to the left. At the end of the car park the entrance to Enfield Sports is there we have large traffic cones outside the door entrance. Simply Park your car in car park AND come into the entrance – press the door bell on right hand side to be let into the shop by Enfield Sports staff.
Our address for satnav: Becketts Farm (Enfield Sports Ltd), Heath Farm, Alcester Road, Wythall, Birmingham, B47 6AJ
Enfield Sports by Train: The nearest main train stations are Birmingham International, Birmingham New Street and Warwick Parkway, each offering swift services from the North, South, East and West. The local station Wythall on the Birmingham – Stratford on Avon line, is only 1 mile away.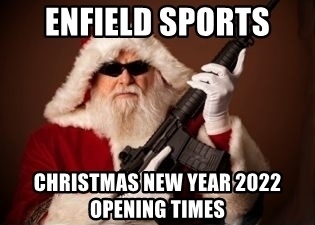 FRIDAY 24th DECEMBER 2021   OPEN TILL 3PM
SATURDAY 25TH DEC XMAS DAY       CLOSED
SUNDAY 26TH DEC BOXING DAY        CLOSED
MONDAY 27TH DEC (BANK HOLIDAY) CLOSED
TUESDAY 28TH DEC (BANK HOLIDAY) CLOSED
WEDS 29TH DEC                        NORMAL HOURS
THURSDAY 30TH DEC             NORMAL HOURS
FRIDAY 31ST DEC NEW YEARS EVE  OPEN TILL 3PM
SATURDAY 1ST JAN (NEW YEARS DAY) CLOSED
SUNDAY 2ND JAN                                  CLOSED
____________________________
Enfield Sports RFD to RFD Gun Transfers We will not accept any full airgun packages from other gunshops like diving bottles, scopes, silencers etc only guns. Airguns £25 each Gun & Shotguns & Firearms £35 each Gun – Air Pistols £15 Each Pistol
Gun Storage is from £5 Per Week Per Gun
Used Guns Airguns/Shotguns/Air Pistols – Shop Warranty is 3 Months from the date of purchase
Please call 0121 716 1410 to check stock availability. Please note that staff are very busy and will answer the phone as soon as possible.
If you can't get through send an email to retail(at)enfieldsports.com
____________________________
Enfield Sports now provide Airgun Dive Bottle Refills bring your bottle in local to Birmingham – Solihull – Bromsgrove – Worcester – Sutton Coldfield – Tamworth
Enfield Sports  can now refill airgun dive bottles – please click [

HERE

] for prices and details. Please note bottle must be in test and be a airgun cylinder.
____________________________