Shop
Please call 0121 716 1410 to check stock and product availability on items before travelling. 
Please note we don't have a live stock control on website as we are a very busy shop. We do try update website as often as we can so please contact first on availability.
Also Prices may differ due to increase on export container costs due to Brexit tariffs which is out of our control. 
ENFIELD SPORTS BIRMINGHAM GUN SHOP
Enfield Sports Gun Shop cater for all your shooting requirements we are one of the largest stockists of all types of airguns, air rifles, air pistols, airsoft bb guns, shotguns, firearms, ammunition, cartridges, shooting accessories, country sports clothing  and much much more in the West Midlands area. Enfield Sports gunshop Birmingham is local to Bromsgrove, Tamworth, Solihull, Redditch, Worcester, West Bromwich, Sandwell areas.
Directions from M42. Leave the M42 at J3. Take the A435 north towards Birmingham. Continue for 1 mile and turn into Becketts Farm Shop (look for the brown sign) just before the large roundabout. If you miss the turnoff take the first exit at the roundabout and the turn left again look for the Becketts Farm Shop. Enfield Sports Gun Shop is located on rear side by Alcester Road. If you drive past the garage keep straight American Golf is in front of you and then drive to the left. At the end of the car park the entrance to Enfield Sports is there we have large traffic cones outside the door entrance. Simply Park your car in car park come into the entrance and press the door bell on right hand side to be let into the shop.
Our address for satnav: Becketts Farm (Enfield Sports Ltd), Heath Farm, Alcester Road, Wythall, Birmingham, B47 6AJ
Enfield Sports by Train. The nearest main train stations are Birmingham International, Birmingham New Street and Warwick Parkway, each offering swift services from the North, South, East and West. The local station Wythall on the Birmingham – Stratford on Avon line, is only 1 mile away
ENFIELD SPORTS OPENING TIMES
(Please note due to security you must come 15 mins before closing time due to security and we close at the stated times)
MONDAY – 9.30AM TILL 5.30PM
TUESDAY – 9.30AM TILL 5.30PM
WEDNESDAY – 9.30AM TILL 5.30PM
THURSDAY – 9.30AM TILL 5.30PM
FRIDAY – 9.30AM TILL 5.30PM
SATURDAY – 9.30AM TILL 4PM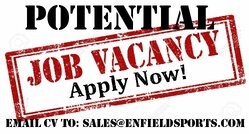 Potential Vacancy at Enfield Sports and Home & Garden Bargain Centre at Becketts Farm
 We are currently considering looking for a new team member to join Enfield Sports at Becketts Farm, Alcester Road Wythall B47 6AJ. The potential vacancy will involve working in a fast paced environment at Enfield Sports aswell as our secondary business which is located at rear of our Unit called Home and Garden Bargain Centre. Duties include: assisting with both businesses, covering staff rotas, picking and packing of mail order, warehousing duties, answering telephone enquiries and dealing with the public face to face. This is a secure full time position for the potential right candidate. Our ideal candidate must have knowledge of airguns, shotguns and firearms. It is essential to the position. Training will be provided in house for the candidate. A full DBS background check will be required. The role will involve cover for weekends, Bank Holidays and time to time we may do Open Days, Late Nights or trade over weekends at various Game Fairs. The potential candidate must also hold a clean full driving licence.
Please email your current CV to sales(AT)enfieldsports.com with a covering statement why you think you should get the job at Enfield Sports.
Closing date for applicants is 6th May 2021
Enfield Sports RFD to RFD Gun Transfers
Airguns £25 each Gun & Shotguns Firearms £35 each Gun
Please call 0121 716 1410 to check stock availability. Please note that staff are very busy and will answer the phone as soon as possible.
If you can't get through send an email to retail(at)enfieldsports.com
Gunsmithing Gun Repairs & Servicing – please note there is a non-refundable £35 fee to to cover labour costs, which is payable irrespective of further work being carried out.
---
Enfield Sports now provide Airgun Dive Bottle Refills bring your bottle in local to Birmingham – Solihull – Bromsgrove – Worcester – Sutton Coldfield – Tamworth
Enfield Sports  can now refill airgun dive bottles – please click [

HERE

] for prices and details.