Rambo 2 Survival Knife
£59.99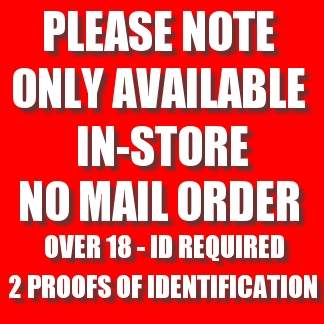 MUST BE OVER 18 YEARS OLD TO PURCHASE IN-STORE ONLY! NO MAIL ORDER ON THIS ITEM
Rambo 2 First Blood Part 2 Survival Knife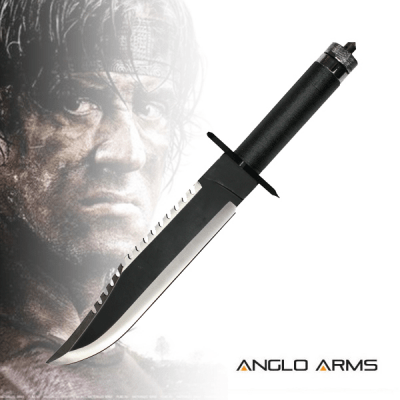 Rambo Knife – First Blood Part II knife is 15 3/8th" in length with a 10″ sharpened, fully functional 1/4″ thick 420 J2 stainless steel blade with saw back.The First Blood Part 2 knife features a push tang construction with a hollow aluminum cord gripped handle that contains an emergency survival kit and a precision compass that is mounted in the pommel.The stainless steel guard incorporates a standard and a Phillips head screwdriver points in the design. Each knife comes complete with top grain custom genuine faux leather sheath as seen in the movie Rambo II.

Movie: Rambo First Blood Part II
Blade Material: Stainless Steel
Application: Survival knife
Handle Material: Stainless steel+ Nylon Cord
Steel: 420J2 Stainless Steel (57HRC)
Surface Finish: Black titanium with sandblasted edges
Overall Length: 390mm
Blade Thickness: 6mm
Blade Length: 255mm
Handle Length: 135 mm
Out of stock
Description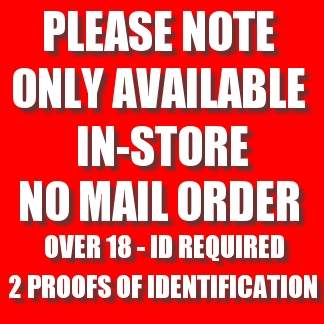 MUST BE OVER 18 YEARS OLD TO PURCHASE IN-STORE ONLY! NO MAIL ORDER ON THIS ITEM
Rambo 2 First Blood Part 2 Survival Knife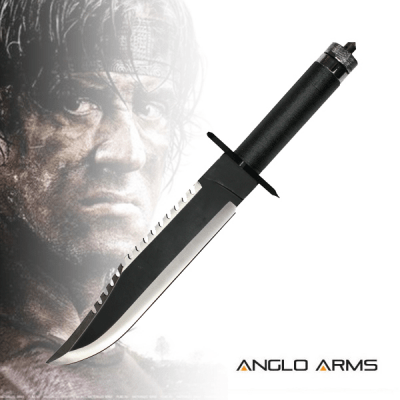 Rambo Knife – First Blood Part II knife is 15 3/8th" in length with a 10″ sharpened, fully functional 1/4″ thick 420 J2 stainless steel blade with saw back.
The First Blood Part 2 knife features a push tang construction with a hollow aluminum cord gripped handle that contains an emergency survival kit and a precision compass that is mounted in the pommel.
The stainless steel guard incorporates a standard and a Phillips head screwdriver points in the design. Each knife comes complete with top grain custom genuine faux leather sheath as seen in the movie Rambo II.
Movie: Rambo First Blood Part II
Blade Material: Stainless Steel
Application: Survival knife
Handle Material: Stainless steel+ Nylon Cord
Steel: 420J2 Stainless Steel (57HRC)
Surface Finish: Black titanium with sandblasted edges
Overall Length: 390mm
Blade Thickness: 6mm
Blade Length: 255mm
Handle Length: 135 mm