Element Optics Helix 6-24×50 FFP MRAD APR-2D Rifle Scope
£429.99
Element Optics Helix 6-24×50 FFP MOA APR-2D Rifle Scope Element Optics FX Airguns has designed the HELIX in a way that puts the important things first: clear glass, smart reticles, innovative features and a turret system superior to other products in the same price class.The turret system has been upgraded from your stock-standard sporting optic to feature stainless steel internals for resistance against wear-and-tear when dialling regularly – something that modern shooting disciplines require. The tool-free turrets and zero-stop mechanism give you high-end features without breaking the bank, and the First Focal Plane reticle ensures precise reticle calibration at all magnifications.Element Optics has introduced quality control checks to give you peace of mind when taking that 1000 yard shot, and if something goes wrong, their Platinum Lifetime Warranty has you covered
Out of stock
Description
Element Optics Helix 6-24×50 FFP MRAD APR-2D Rifle Scope
Element Optics has designed the HELIX in a way that puts the important things first: clear glass, smart reticles, innovative features and a turret system superior to other products in the same price class.
The turret system has been upgraded from your stock-standard sporting optic to feature stainless steel internals for resistance against wear-and-tear when dialling regularly – something that modern shooting disciplines require. The tool-free turrets and zero-stop mechanism give you high-end features without breaking the bank, and the First Focal Plane reticle ensures precise reticle calibration at all magnifications.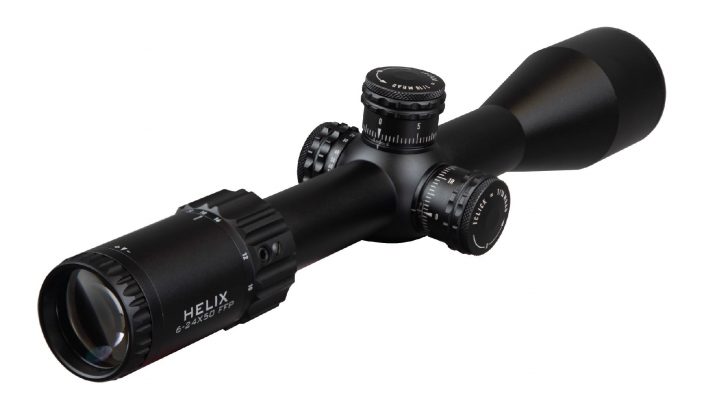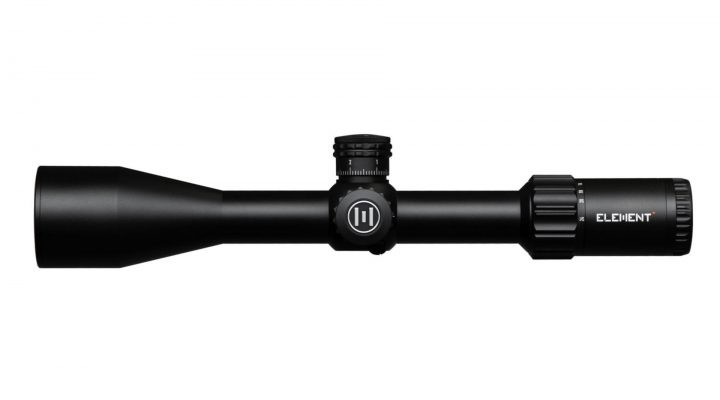 Element Optics has introduced quality control checks to give you peace of mind when taking that 1000 yard shot, and if something goes wrong, their Platinum Lifetime Warranty has you covered!
| | |
| --- | --- |
| Brand | Element Optics |
| Popularity | Element Optics Helix 6-24×50 FFP MRAD APR-2D Rifle Scope |
| SKU | 50044 |
| Highest Magnification | 21x-30x |
| Minimum Parallax | 10m-∞ |
| Objective Lens Diameter | 50mm |
| Reticle Plane | First |
| Tube Diameter | 30 mm |
| Turret Click Value | 0.1 MRAD (cm) |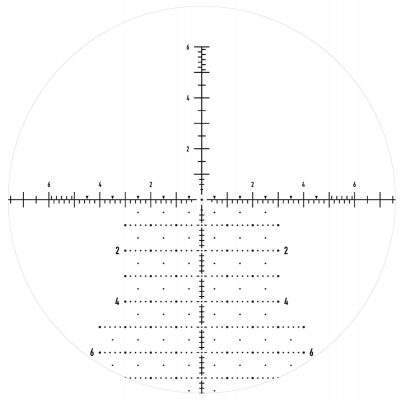 APR-2D 6-24 FFP MRAD
DESIGN FEATURES
APR stands for "All-Purpose Reticle", and that's the concept behind the design of the APR
C & D variants. The "D" is the "dirty" more complex of the two, with holdover dots
extending down in a 'Christmas Tree' pattern for more precise long-range holds.
The fine centre dot draws your eye away from the distraction of the markings for those
who plan to dial instead of hold, but a whole host of features are there for those who wish
to make use of them.
MIL-SCALE:
The Mil-Scale on the horizontal & vertical crosshairs allow the shooter to measure objects
downrange and quickly make adjustments. With one division equalling one click, the
guesswork is gone.
EXTENSIVE HOLDOVER DOTS:
Holdover dots allow the shooter to hold with precision when there is no time to dial.
Extreme Long Range shooters can also accurately call points of impact and make quick
adjustments.
NUMBERED MARKINGS:
Numbers on both the horizontal and vertical axis allow shooters to quickly find hold points
in pressure situations like PRS/NRL matches.
TAPERED BARS:
Bars on the left, right & bottom of the reticle taper out to the edge of your field of view,
drawing your eye to the centre at all magnifications without becoming too thick or th
Element Optics Helix 6-24×50 FFP MRAD APR-2D Rifle Scope
| | |
| --- | --- |
| MAGNIFICATION RANGE | 6-24x |
| TUBE DIAMETER | 30mm |
| OBJECTIVE LENS DIAMETER | 50mm |
| EXIT PUPIL | 9.1-2.2mm |
| EYE RELIEF | 3.7 – 4 Inches |
| FIELD OF VIEW | @100yds: 18.3-4.6 ft |
| | |
| --- | --- |
| CLICK VALUE | 1/10 MRAD (6 MRAD / REV) |
| ELEVATION ADJUSTMENT RANGE | 18.9 MRAD |
| WINDAGE ADJUSTMENT RANGE | 11.6 MRAD |
| MINIMUM PARALLAX | 10 METERS |
| LENGTH | 363 mm |
| WEIGHT | 737gr |